Lydbrook Parish Church
East Window appeal page.
Picture of the East Window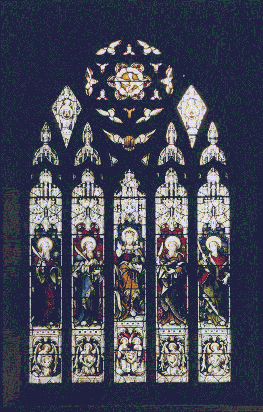 The East window commemorates the Thomas Family famous for his national industrial achievements in the founding of the South Wales Steel Industry, and having begun in a modest way at the Lydbrook Tin Works.
The Window depicts the four Evangelists - Matthew, Mark, Luke and John, with Christ the King at the centre. Below each of the Evangelists is an Angel holding a shield portraying the Evangelist's symbol. Below Christ are two Angels holding a shield bearing his name (IHS = JES). Above the Risen Christ is the Holy Spirit in the form of a Dove radiating down. To each side of the Dove is an Angel, respectively holding shields bearing the initials Alpha and Omega. The window is at least 18½ foot in height and 9 foot in width.
Originally the Window was provided by Richard and Ann Thomas in memory of six of their children which had died. The original inscription on the brass plaque ran "To the Glory of God, and in memory of the following members of the Thomas Family - William George, Sydney Loveluck and Ann Lillian, who rest in this Churchyard, Samuel Treherne and Alfred Ivor, interred at Lantwit, Neath, and Stanley Rendell, interred at the English Cemetery, Rome". The Window was dedicated October 20th 1908 by the Bishop of Gloucester.
Sometime after 1917, with the deaths of Richard (1916) and Ann Thomas (1914), and Richard Beaumont (1917) and Elizabeth Mabel their Children, a new plaque replaced the original with the additional names.

The East Window today.
Sadly, over the years the cement holding the lead to the glass has deteriorated, and now the window lets in the elements, and is in need of repair. At least £12,000 are needed for these repairs. So far £3,500 has been raised and help is needed in raising the rest of the cash.
Appeal.
If you can help, please send any donation to:
The Reverend Michael Foster, Lydbrook Vicarage, Church Road, Lydbrook, Gloucestershire, GL17 9SW.
Cheques made out to The Lydbrook Church East Window Fund.